In the 18th century, the walls gradually lost their military function and the internal embankments were used for agricultural purposes. Already the Theresian cadastre (1774) confirms its use as a meadow with mulberry trees. Despite the lack of information about the Lombardy-Veneto period, it can be assumed that, when Sabbioneta was no longer a strategic position, the agricultural uses were further explored. The twentieth-century cadastre show that the ramparts and bastions were generally used for agricultural purposes (meadows, vineyards, orchards, etc..). Agricultural uses survived at least until the middle of the 20th century.
THERESIAN CADASTRE 1774
Land use based on cadastral survey tables
The Theresian cadastre certifies the transformation of the embankments to agricultural uses: most of the time, a field with mulberries (morus). The surrounding moat, which was probably only partially filled in, was instead used for grazing.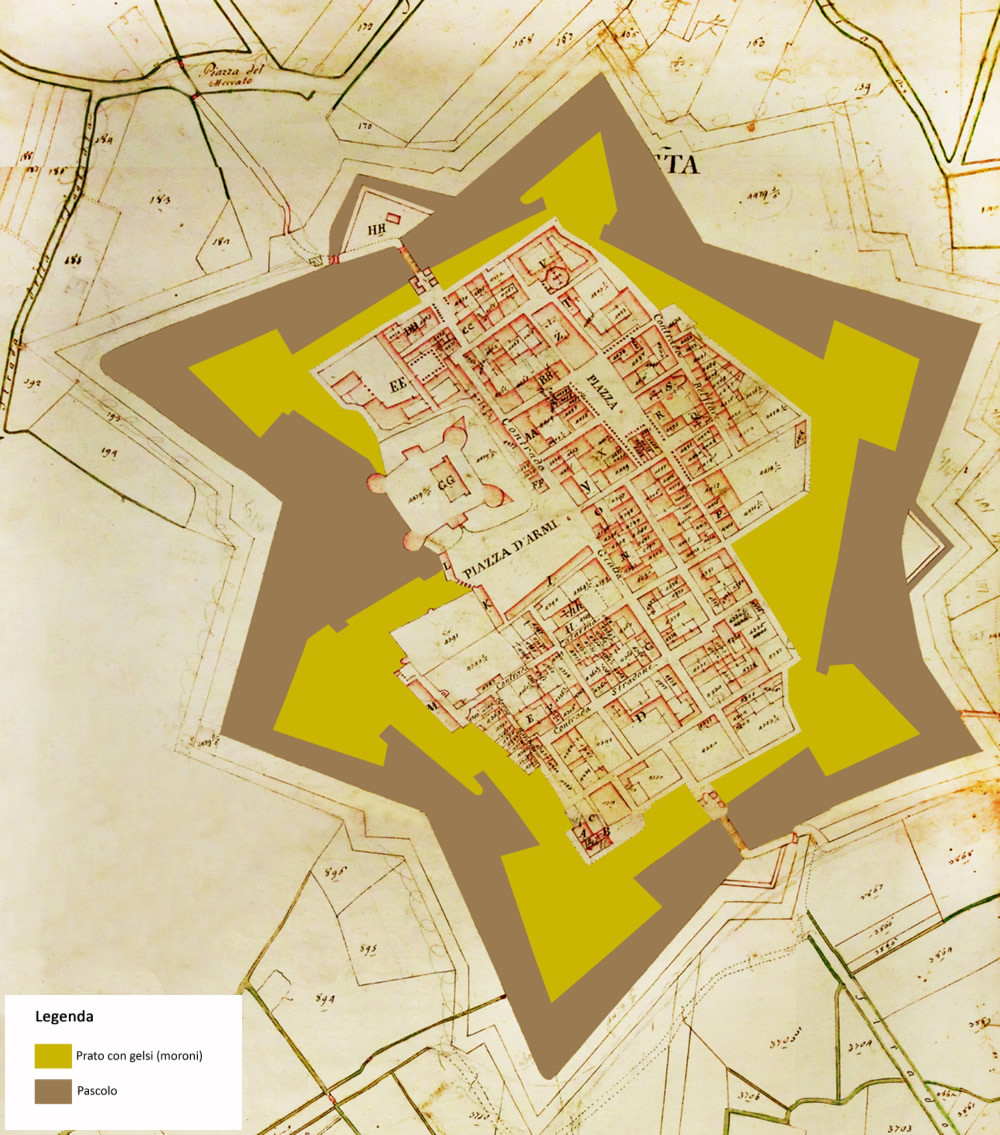 POST-UNIFICATION CADASTRE (early 20th century)
Land use based on cadastral survey tables
The cadastre of the early twentieth century attests to the rein of agricultural uses, with mainly arboreal crops: especially vineyards and meadows planted with trees on the bastions (except the bastion of San Giovanni, used as a vegetable garden), orchards (the Bresciani ramparts), mulberry trees (area of the former castle) and even meadows  with trees. Subsequent updates to the cadastral survey tables also show a progressive and further spread of vineyards towards the end of the twenties.
DUSAF 1954
Lombardy Region, cartography obtained from IGM aerial frames - GAI flight
In 1954 some bastions were converted to parks or gardens (bastions of San Giovanni, San Giorgio, San Francesco), while others were still used for agricultural purposes, with particular reference to tree-covered arable land (San Nicola) and simple arable crops (Santa Maria), as well as orchards (Sant'Elmo). The area of the Bresciani ramparts was partly used as a permanent field and partly as wooded arable land.